Users
An administrator of an Envirometer subscription can give others access to the subscription. The number of users and co-administrators is unlimited and you can define the rights for each user. This may be useful, for example, to enable colleagues to enter data for their location and to give 'read-only' access to other locations.
There is also an 'Access provision for helpdesk' function to give temporary access to Stimular employees.
Tip: Your own profile details (e-mail adress/password/avatar) are adjustable via the avatar in the upper right corner of the green taskbar.
Add users
In the grey taskbar, go to Manage > users.
Use *Add users at the bottom of the list of users.
Enter the relevant details. If the user already has an account, the Envirometer will detect it based on the email address. When saving the user, a message will appear that 'user already exists' and the Envirometer will enter all known details.
Next, use add rights or the user will not be able to see anything. You can also make the user a co-administrator. The meaning of the rights is explained at the bottom of this page.
The final step is 'send invitation'.

The user will receive an email stating that you have given the user access to your Envirometer.
If the user does not yet have an Envirometer account, he or she will have to select a password during the first login session.
If the new user does not use the invitation within 32 days we will delete him or her from our system (in compliance with

GDPR

rules).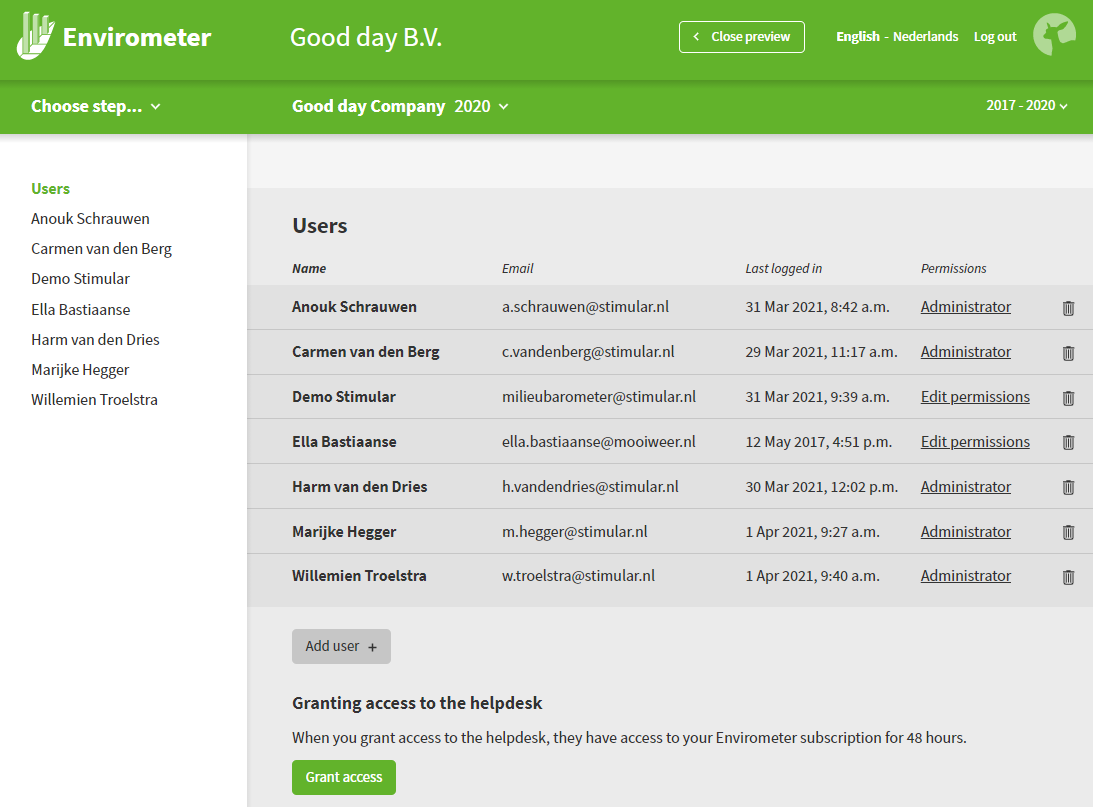 Delete users
Administrators can delete users from their subscription using the trash bin icon next to the user.
You can delete yourself from an Envirometer subscription unless you are the last administrator. In this case, you will first have to make someone else administrator.
Edit rights
As administrator, you can configure user rights for each Envirometer.
This can be done in two ways:
Via Manage Envirometer, where you can configure user rights.
Via Manage users, where you can configure the rights per user for all Envirometers. You can also specify a co-administrator here.
Overview of rights
Administrator
All
Data entry
Read
No rights
View entered data, graphs, CO2-footprint, key figures and measures
Data entry of milieu items
Finetuning of data entry and key figures
Manage

CSR

items
Change Environmenter properties
Add, lable, remove, import Envirometers
Change, increase, decrease, cancel Subscription properties
Add, remove, change rights of Users
Important: No rights means that the user cannot view this Envirometer.
Access provision for helpdesk
When in contact with the Envirometer helpdesk staff at Stimular, it can be useful to provide access using the 'access provision for helpdesk' function.
To do this, go to Manage > users in the grey taskbar.
Access provision for helpdesk at the bottom of the user list lets you give the helpdesk 48 hours of access to your Envirometer.
You can see the access provision deadline and can revoke the access provision at any time.
2FA (2 Factor Authentication)
Two-step verification is available to add to your account. This allows you to provide extra security for your account. You can enable this via your user profile (icon at the top right). It is not possible to enable this for fellow users. After logging in with 2FA, it is also possible to switch it off again via the same route.
If you can no longer use 2FA, you can contact Stimular to request a reset. You will then be asked for identification.