Labels
Labels are useful for companies with numerous branches. A label lets you filter your Envirometers and, for example, easily create an overview of a region or type of branch (workshops and offices).
Manage labels
Under Manage > label (in the grey taskbar), you can:
Add label: Add a new label to one or more Envirometers.
Delete label: Use the trash bin next to the label.
Edit label: Select a label and change the title or Envirometer selection.
Under Manage > Envirometers (in the grey taskbar), you can:
See and manage in two ways:

per barometer: which labels
per label: which barometers

Define labels per Envirometer when editing an Envirometer.
Attach current labels to the Envirometer when adding a new Envirometer.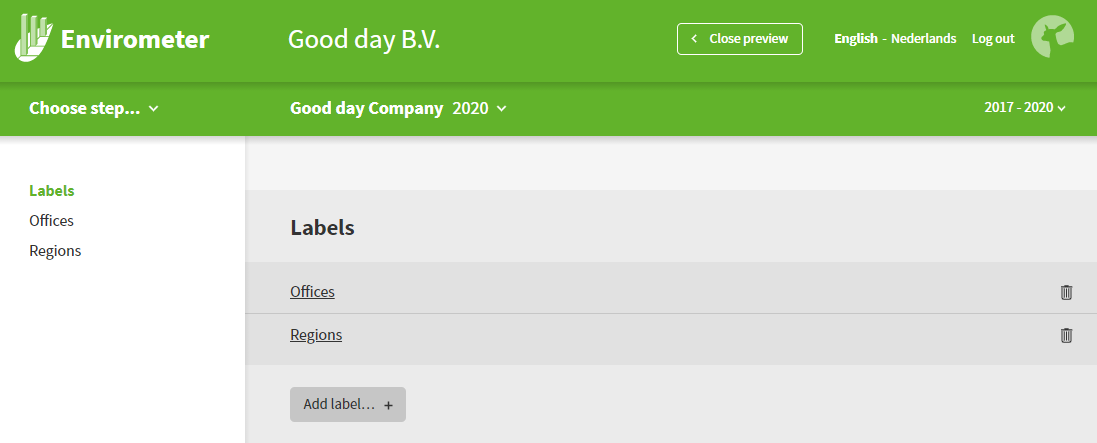 Use label filter
You can select one or more labels in the green toolbar. Confirm the filter setting with apply to save the filter. The green toolbar will then show the label used for the filter. Using a label filter means that:
The green toolbar only displays the list of Envirometers that meet the filter criteria.
The 'all Envirometers' setting takes the label filter into account and shows only Envirometers with those labels. The 'all Envirometers' setting is available for:

Key figures
Data entry
Power tool graphs [still under development]