Envirometer for theatres and venues
This page shows the environmental impact of the average theatre/venue based on Envirometer graphs and key figures.
The pie chart below shows the environmental impact of the average theatre, distributed over various environmental themes. Electricity is extremely important, with 'fuel & heat' a secondary and waste a third theme. The average contains a relatively high number of theatres with city heating, which explains the low environmental impact for the theme of fuel and heat. Theatres heated with a natural gas boiler have a significantly higher environmental impact in this area.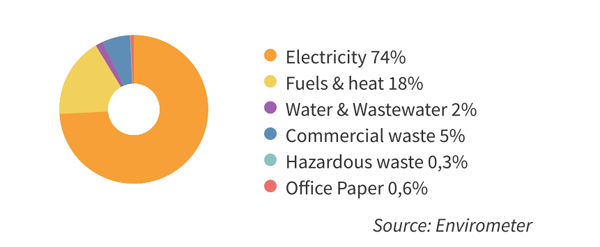 Transport included
Some of the theatres also included data about their transport (commuter traffic, business traffic and goods transport). The graph below includes transport and illustrates that this significantly increases a theatre's environmental impact. The graph shows that visitor transport accounts for more than twice as much environmental impact as the electricity consumption of the theatre.

Key figures
The table below includes several key figures from the theatre benchmark, as well as the average and the range. For the fuel theme, the use of city heating has been converted into natural gas equivalents.
| | | | | |
| --- | --- | --- | --- | --- |
| Environmental aspect | Key figure | Average | *Range | Unit |
| Electricity | electricity / surface area | 102 | 64 – 201 | kWh/m2 |
| Fuel | heat / building contents | 1.8 | 1 – 5.5 | m3 gas eq./m3** |
| Water | water / visitor | 17 | 7 – 38 | litres/visitor |
| Waste | waste / visitor | 240 | 60 – 600 | grams/visitor |
* Range = average +/- standard deviation
** All energy flows for heating (natural gas, city heat, wood chips) were included in the 'fuel' theme and converted into natural gas equivalents
Source of this average Envirometer
This average Envirometer was based on a theatre benchmark that includes twenty-seven theatres with data from 2015. The theatres are a mix of large and small, old and new theaters. They are members of the 'Duurzaamheidskring Haagse Theaters' and the 'Overleg Amsterdam Theaters'. In which theatres and venues work towards reducing their environmental impact. Annualy they use the Envirometer to monitor their environmental results.