Split a year
You can split an Envirometer-year into half years, quarters, four month periods or months. Values from that specific year will then be divided over the periods.
Monthly records will be copied to the according period (e.g. jan-march forthe first quarter)
Yearly records will be split into/ 2 for half years/ 4 for quarters/ 12 for months
How do you split an Envirometer-year?
Go to Settings
Open the Envirometer by clicking on it's title.
Click on 'split' at the back of the line of an year and choose the period.
Extra items will appear for the same year and an designation for the period.
Splitted items will be locked (by-default), which means they are read-only.
Undo/change a splitting:
Remove a splitted item (and select 'remove all splitted years').
Click on 'split'. After this, the old splitting will be overwritten by the new one.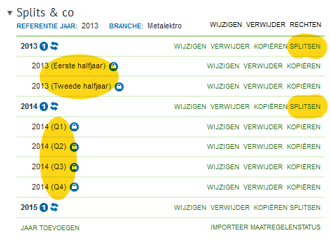 Enter data
Fill in the 'complete year'
The information will be automatically changed in the splitted Envirometers.
Yearly records will be splitted by 2,3,4 or 12 according tot he chosen splitting.
Monthly records will be copied to the splitted Envirometers where they could be of use.
Splitted Envirometers (for quarters, half years etc.) will normally be set on 'reading only'. You can change this security at 'Settings' – change year.
Quarters, half years etc. put into graphics and footprints
The quarters, half years etc. will function the same way as normal years in graphics, indicators and footprints. However, the amount of bars will build op veryquickly. The function 'filter' makes it possible to select only the relevant bars for your comparison.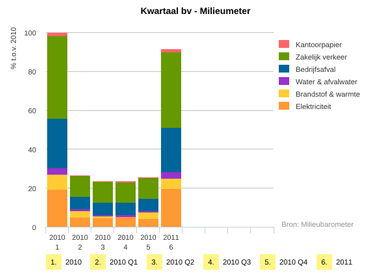 This graphic shows that the year 2011 has a lower environmental impact than 2010. Besides that the graphic shows that environmental impact per quarter is the highest in the winter.